experience all that Southern California has to offer
The best way to see Southern California is to travel on foot…you can take in the sights and notice the little things that you would otherwise miss.
When you join a walking tour, you normally join a group. That group assembles at specific times  and moves slowly because everybody has to gather up around a guide when she has something to say. If you stop — to take a photo, buy a bottle of water, or tie your shoelaces — you fall behind. If somebody else stops, you have to wait.
TourFreely's walking tour gives you the freedom to explore at your own pace. You can start our walks at any time and stop whenever and wherever you like, for as long as you like. You don't even need to hit pause. The app uses your location to play audio automatically, at exactly the right time and place, and when you start moving again, playback will too. It also gives you directions, making it much easier to put your phone away and immerse yourself in your surroundings, not the screen.
How does the tour work?
As you walk with hands free, the app on your phone tracks your location. All you have to do is walk along the tour route and enjoy the beauty and the tour stories through your headphones.
How long is the walking tour?
It will take approximately 45 to 75 minutes depending on your pace and stops. Remember this is Tour Freely – so feel free to skip ahead or pause as often as you like. The location tracker will pick back up along the route. We want you to enjoy the tour – your style!
How do I download the app to start the tour?
Step #1 Download the VoiceMap app from the AppStore (iPhones and suitable iPads,) or Google Play (Android) stores. Please have your account username and password ready.
Step #2  Search for one of our tours. Click to download the tour app. To buy an app, tap the price on the right side of the screen, then tap Buy. Follow the onscreen instructions to complete the transaction and get started.
For iPhone users- What if you see a cloud icon? That means you have already purchased the app and you can download again, without charge. If you need support in downloading the app: https://support.apple.com/en-ca/HT204266
Do I need to bring anything with me?
Yes – A FULLY charged phone. Location services use your battery up faster. Your phone needs to stay charged throughout the tour. 
Bring headphones. If you don't have headphones, you can listen through the phone's speaker.
Lastly, bring your adventurous spirit and a smile to pass along to fellow explorers!
How do I preview the tour before I go?
You can listen to the audio commentary points before you go, or after you come back if you are trying to remember something from the tour.
We don't recommend manually tapping your way all through the tour before you go as the audio is designed to be experienced while you are visiting the destination and seeing the sights!
iPhone and iPad
Tap on the Browse Tour button (scroll down home screen). This will take you to the map.
Tap the arrow icons with your finger. An audio box will open – tap the play symbol to hear the audio.
Drag the map using one finger. Use your thumb and forefinger in a pinching motion (to zoom out) or spread motion (to zoom in) on the map.
Once you are driving the route, the screen automatically centers your location (blue dot) on the screen. Zoom out so you can see your location, in relation to the recommended start points and audio points.
Android
Select Start Tour and then Preview Tour.
Tap the arrow icons with your finger. An audio box will open – tap the play symbol to hear the audio.
Drag the map around with your finger. Tap anywhere on the map screen to see the +/- symbol.  Tap this to zoom the map in or out.
Once you start the route, the screen automatically centers your location (blue dot) on the screen. Zoom out so you can see your location, in relation to the recommended start points and audio points.
What if the tour app won't fully download?
Downloading on a reliable Wi-fi network is required. You may have limitations in downloading using a hot spot or a tether to create a Wi-fi signal. We recommend downloading before you leave your home or hotel.
You can find free Wi-fi service Starbucks, McDonalds or at some a local coffee shops.
Is there a time limit to use the tour?
You do not need to use the tour within a time limit. There is no limit on how many times you use the tour.
Do I have to do the tour in order?
No – We have carefully designed the tour for the best experience. However, it's not a problem to go out of order. The GPS trigger will kick in when you approach one of the stops.
Is the tour suitable for children?
Yes – It is suitable for children, who enjoy local history. Children are enchanted by seeing the seals and sea lions! You'll need to determine if the FULL tour is appropriate for your children. The tour is accessible by stroller. (However, at the end of the tour you will need to continue along Coast Blvd. to return to Prospect street to get back to the starting point, to bypass the steep stairs.)
Is the tour suitable for wheelchair users?
The tour is mostly wheelchair accessible. There are some special instructions for a couple sections of the tour.  Additionally, there are a couple of steep hills. We are aware that there may be special requirements. We want our tours to be accessible to everyone, so if you have any questions or concerns, please contact us at 858-634-9100 or at Jerry@TourFreely.com.
What if I have problems with the app?
If you follow the set up instructions with app – you should not have any problems.
Each tour app contains a Help section in the menu. This covers all the most important things to pay attention to and simple fixes for the most common things that cause issues with set up.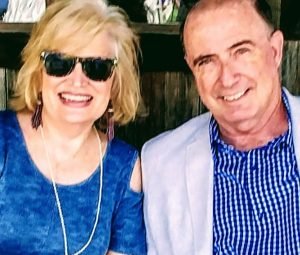 Our Founders Are La Jolla Natives
Mindy Grout Flanagan was born at Scripps Hospital when it was a small, community hospital located in La Jolla on Prospect Street. She was very grateful to be raised in La Jolla, in a family that had a deep love for the sporty lifestyle it afforded. Mindy has spent much of her career as an instructor/manager in higher education. She currently works as a Career Advisor, at UC San Diego Extension, where she helps others transition their avocation into their vocation. Mindy co-founded TourFreely because she believes in following the footsteps of your passion and helping others to do the same. She knows the simple joy that comes from exploring your own city and region.
When Jerry was born, his father was serving in the Korean war and his mother and twin sister lived in naval housing at Camp Matthews, which today is the location of UC San Diego. The family eventually moved to Orange County and Jerry attended local schools there as did his 6 siblings but he moved to San Diego and La Jolla in 1980 after meeting his bride-to-be Mindy Grout Flanagan. They raised their family here while Jerry practiced optometry and the kids all graduated from La Jolla High School. They have always appreciated the beauty and rich history of California's Riviera and enjoy sharing it with visitors to the area.
"La Jolla is home to one of the most stunning pieces of coastline in all of California. That scenery along with some of the best restaurants in the country, beautiful homes, and excellent schools make living in La Jolla a sought-after lifestyle in San Diego"
Other TourFreely Services
Mindy and Jerry are excited to share local tours with curious like-minded "explorers." Their first tour of the village of La Jolla went live at the end of November 2019. More tours to come in 2020!
As David Brooks refers to his book, The Second Mountain, Mindy and Jerry are gratefully climbing their "second mountain." They believe in living life with the joie de vivre spirit and inspiring others to do same. They embarked on this career detour journey and they want to share their appreciation of the rich history and glory of the local communities. Together, they would be delighted to work with organizations located in San Diego.    
Services Offered: We welcome partnerships with all tourism-related organizations including hotels, restaurants, bike rental companies and sponsors of food, wine, art and music festivals. This partnership can be in the form of affiliate marketing, brand ambassadorships, blog articles, giveaways, social media promotions and/or other partnerships/collaborations.
If you would like to discuss how we can work together, please email us at Jerry@TourFreely.com.