On our La Jolla Riviera tour, we take you along Prospect St. starting at the Green Dragon Colony and south to the Contemporary Museum of Art where you take a right on Cuvier St. If you happened to continue past Cuvier while staying on Prospect you come to a building that Ellen Browning Scripps built and became the Scripps Hospital in 1924. The address is 464 Prospect St today and  the hospital entrance was beneath that arch in the photo here that shows today's updated view.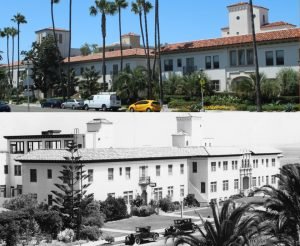 In 2001, the building was purchased and converted to condominiums but what we know today as the Scripps Research Institute and Scripps Hospital, located near the UCSD campus, both had their roots in this location in the Village. In this era of the coronavirus that has upended our normal life routines, it is worth appreciating the contributions our City of La Jolla has contributed to the life sciences since 1924 when Ellen Browning Scripps established this 57-bed facility. Scripps Hospital and Scripps Metabolic Clinic opened at 476 Prospect St. on Sept. 12, 1924 with private rooms and two- and four-bed wards and was named after Ellen's favorite sister Julia Anne Scripps, who moved into Ellen's La Jolla house in 1898, the last year of her life (Ellen died at age 51). The architect was Louis Gill, nephew of Irving Gill, who designed Ellen's house and many other La Jolla landmarks.
To get to Scripps Clinic from downtown La Jolla, you head North on Torrey Pines Rd and pass the UCSD campus and another life-sciences landmark, The Salk Institute for Biological Studies established by Jonas Salk who developed the first polio vaccine. The Scripps Research Institute, the Salk Institute of Biological Sciences and UCSD places La Jolla in the top tier of health research centers in the world. With the commercialization of the intellectual property emerging from these institutions, the San Diego biotech ecosystem has led to some of the largest venture capital financings in the country with DNA sequencing companies like Illumina and Epic Sciences being recent examples.
Scripps Hospital and Scripps Metabolic Center
The Scripps System is now one of the premier healthcare systems in the country. According to US News and World Report, Scripps Memorial Hospital and Scripps Green Hospital rank number one on the best hospitals list. The research arm of the system is the Scripps Research Institute (TSRI) on Torrey Pines Mesa where it occupies more than one million square feet of space on 35 acres and is one of the most productive research centers in the nation. In addition to the Torrey Pines campus, Scripps expanded and built another research center in Jupiter Beach, Florida called the Scripps Immunology and Microbiology Center where they are developing a new vaccine for the coronavirus. Scripps' Dr. Michael Farzan, Scripps Research Immunology and Microbiology co-chair says "If everything works, it could be available in as little as six months". Scripps Research teams are also testing already approved compounds that could show activity against SARS-CoV-2, the coronavirus . These drugs could be made available to treat patients more quickly than newer therapies that would require a lengthy time scale for testing.
Scientists on both campuses are prolific and entrepreneurial with nearly 1,000 U.S. patents and over 70 spinoff companies generated. In addition, nine FDA-approved drugs are based on their groundbreaking research and more are on the way. This important work led the influential, scientific journal Nature to name Scripps Research the world's most influential research institute.
Salk Institute for Biological Studies
We can't leave out one of the most important researchers in the world of virology and pandemics: Jonas Salk. Although he did not conduct his groundbreaking research here in La Jolla, he did establish the Salk Institute for Biological Studies in 1963 across from the UCSD campus overlooking Black's Beach. The renowned architectural structure was built by architect Louis Kahn with financial support from the National Foundation/March of Dimes and, today, the Institute is involved in conducting important research for the coronavirus pandemic. Since Coronavirus disease causes acute respiratory distress syndrome (ARDS), a likely Salk department to make contributions to solving its effects is the Nomis Center for Immunobiology and Microbial Pathogenesis.
UCSD
UC San Diego is ranked as the nation's 10th best public university by U.S. News and World Report in their Best Colleges Guidebook and The 2019 Nature Index rated them ninth for their biomedical research programs in 2019, up from 17th in 2018. UCSD is quickly expanding its research and testing on the novel coronavirus. The university just began working with Scripps Research in La Jolla to find COVID-19 survivors who are willing to donate blood that would be screened for antibodies capable of fighting the coronavirus. Physician-scientists at UCSD are joining with medical centers at UC San Francisco, UC Irvine Health and UC Davis Health to test remdesivir, an antiviral drug for a Phase II clinical trial. Gilead Sciences is sponsoring the testing and the compound has been mentioned in the press lately because it has shown activity in animal models and human clinical trials of SARS-CoV, MERS-CoV, Ebola, Marburg and other viruses.
Biotech Beach
Monster.com, the job board site, calls San Diego's Biotech industry "Biotech Beach" because of the many job opportunities here. They include LA and Orange County in that description but San Diego leads with more than 1,100 life science companies and more than 80 research institutes, according to the  the San Diego Regional Economic Development Corporation. According to Monster, the life science sector in San Diego employs more than 42,000 people, with the average wage in the region coming in at $100,000 for biotechnology, pharmaceuticals and biomedical devices and products.
All in all, La Jolla and now the San Diego region, has served and will continue to serve an important role in biological and pharmaceutical research efforts and it can be argued that it all started with Scripps Hospital on Prospect Ave in 1924. The legacy of Ellen Browning Scripps has and will significantly impact our lives and our children's lives many years into the future.